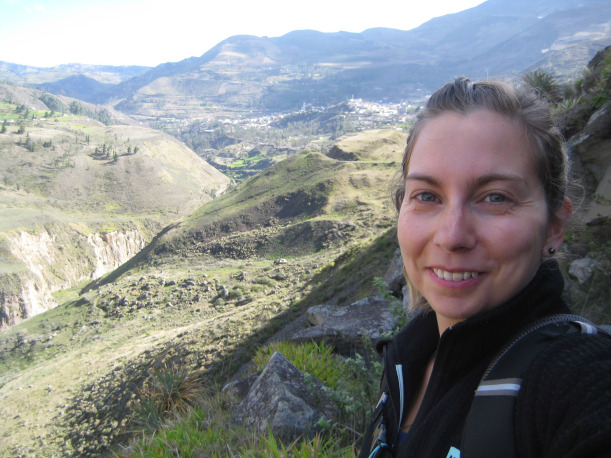 Nicole on the Nariz del Diablo Trek
Nicole from Canada wrote a blog post about her time in Alausi, Trekking the Nariz del Diablo, and visiting the indigenous community of Nizag. You can read the entire post on her blog Reflections from Life in Latin America but i've also taken a few excerpts and photos below.
Welcome to 2015! But I am happy to say that things got much better from here on. I had intended to only spend a couple of nights in Alausí, but once I got there I knew this was the kind of place I had been looking for. It felt like a typical Andean town. The women dress in beautiful traditional skits and hats, even a lot of the younger ones, and everyone was really friendly. So I ended up staying 5 nights at the wonderful Killa Wasi Hostel in a nice quiet room with a view over the valley.

Views of the valley when the clouds rolled in during the afternoons. They move so quickly here, I felt like I was literally inside of them – it was really beautiful and calming. At night the full moon shone so bright, it was like a spot light shinning in my window. Winds would blow at night as well, but they would die off by the morning and the sun would come out to shine bright and strong.

Alausí is famous for the train ride that you can take along the Nariz del Diablo (Devil's Nose), which is a decent of 500m down a cliff face. This is achieved by using switchbacks – the train travels past a junction, then backs down the next section of tracks before going forward again. It was constructed in 1901 and it is estimated that almost 2000 people died during construction. The train ride is now a tourist attraction, but if you're waiting for my account of the ride you are going to be waiting for some time… While it is an impressive sight to see, it is also rather expensive (by my adjusted Ecuadorian standards anyways).

So instead of riding the train I followed the advice of Victor (the hostel owner) and hiked to the town of Nizag, looped around to the train station and then walked along the tracks to return to Alausí. I would without a doubt recommend this as it was one of the best days I've had here.